GHOST | Selection: S.M.A.K.
FRI: 17.30 - 18.40 & SAT: 17.25 - 18.25 | ART YARD STAGE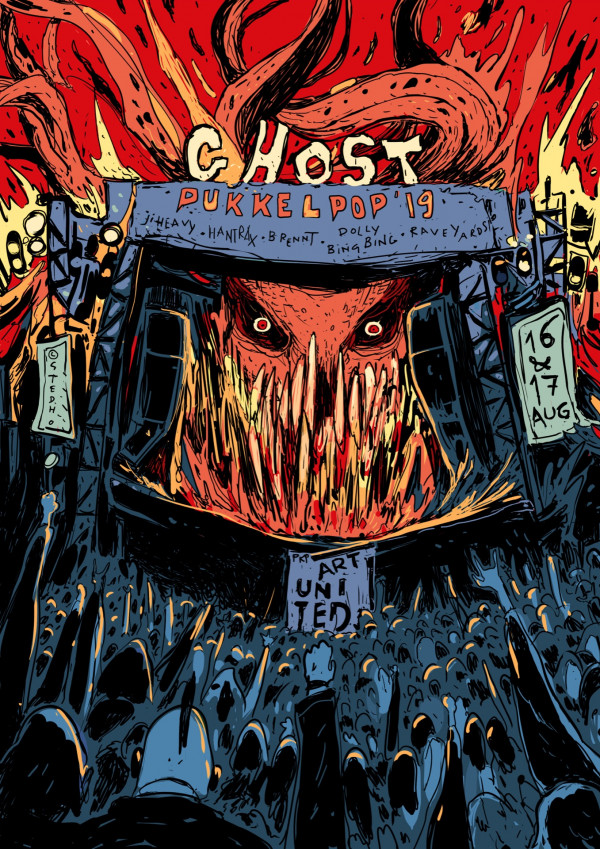 GHOST is an artist and performer collective that embarks on a special 'March of Death' to find festival-goers willing to take part in a very special performance. GHOST consists of Hantrax, Dolly Bing Bing, Raveyards and Jiheavy.
Raveyards
Ghent underground and electronica band Raveyards is the driving force behind GHOST. The band members are Brent Vanneste, Joris Casier (STAKE) and Francois De Meyer (Villa, Soapstarter).
Hantrax
The solo project of Antwerp electronica composer & producer Han Swolfs. His style is described as 'an 80s revival from the future' and his sound betrays influences from EBM, 70s soft eroticism, Robert Schumann and old school hip hop.
BRENNT
The solo- project of Brent Vanneste (Raveyards/STAKE): eclectic, hard beats with techno and metal influences.
Dolly Bing Bing ft. Alien Observer
A music and performance art project by Elisabeth Van Dam and Laurens Mariën (Alien Observer). She pushes back the boundaries of what is human into a hybrid, magnified, angelic and heavenly dimension. Dolly creates post-apocalyptic Gesammtkunstwerke or total artworks that can pop up in the subversive underworld of the internet as well as above ground.
Jiheavy
Jiheavy is Stefan Bracke's ode to Belgian new beat. He performs his own songs as well as remakes of such classics as Los Niños Del Parque and TV Treated.
Location: download the ART United map